About Us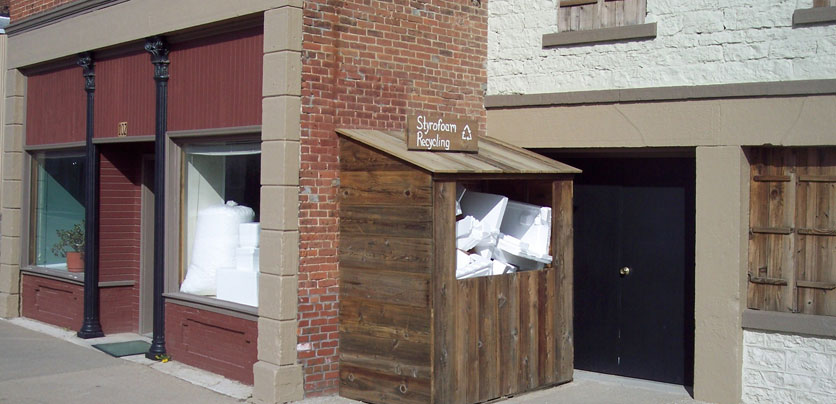 Enstyro is built on the remarkable properties of common foam waste and our remarkable customers who found Enstyro while searching to profit from foam. They are the trail blazers that invested in Enstyro equipment, initiated foam recycling in there region, and developed outstanding uses for an amazing material. This page would be far too long if we listed them all, but here are a few that have shown the way to upscale EPS and other foams.

Our first Island customer is as far away from Enstyro Labs as you can get and still be on the planet. The Soneva Fushi, a luxury eco-resort in the Maldives, purchased Enstyro equipment in 2015. They have now produced over 30 thousand EPS concrete blocks and many bean bag chairs as well. Here is a quote from there Waste to Wealth Manager. "Of all the machines we've ever bought for Soneva, yours has been the most reliable!" Enstyro appreciates all of our island customers and islanders appreciate the value in using resources wisely. Here is a link to some pictures from Soneva Fushi: Soneva Fushi Photos via Dropbox
Rockcote is an Australian company that produces pre mixed stucco, or render as it's known down under. They found the outstanding properties of crack resistance and workability that a shredded EPS particle can impart. Rockcote has now purchased three Enstyro shredders to meet the demand for this outstanding product. Here is a video from this cutting edge company: Rockcote Youtube Video
We've all seen Styrofoam particles in potting soil. It's there to lighten the soil mix and aerate the root systems. In New York City, Dr. Paul Mankiewicz has been studying green roofing for years and has taken soil in an exciting new direction. A deep lightweight soil is of great advantage to growing plants on rooftops. Shredded EPS resists water absorption so a soil mix doesn't gain too much weight with a rain storm. Shredded foam has far more surface roughness than new EPS beads so it can be held tightly by the soil matrix. Here is a video describing some advantages of this innovative product: Shredded EPS in Soil Video
Molding products within an EPS factory is another simple solution. Companies in Mexico and the USA shred and size scrap EPS to be reused with new beads in ICF forms and other products. Rework mixes easily since the density was kept very low by the Enstyro Shredder which doesn't crush the foam. Adding the separator guarantees a uniform particle size.
Waterock Global Development Company Ltd is the first manufactured stone veneer company in Nigeria with product services in cobble stone, antique bricks, vintage stone, walk way and patio stone. They own The Enstyro system and are producing many stone like products including noise reduction veneer for libraries.
The University of Manitoba was the first school to purchase Enstyro equipment and we couldn't be happier about their goals. They are combining shredded foams with natural ingredients to design new building materials for third world countries. The University of Manitoba also recognizes the benefits of EPS in concrete and will be helping progress that field in Canada.
Extremely lightweight EPS concrete can be pumped into place to create a firewall. A firewall is a wall or partition designed to inhibit or prevent the spread of fire. Geopolymer Solutions LLC in Texas is producing this material now and we at Enstyro look forward to major growth in this industry.
The Enstyro shredder works great with memory foam and most any foam out there. We have many customers shredding furniture foam cut offs for reuse in pillow filling, bean bags, and pet beds.
Many of our customers choose to produce their own packing peanuts from recycled foam. Why pay for and consume new packing material when it's so easy to produce from bulky recycled foam. Many different foam types can be used when producing packing peanuts. This is an especially profitable method on islands around the world where competitive packing materials can be quite expensive to import.
Foam waste has amazing properties. Enstyro equipment can produce the perfect particles to reuse it at its highest value. With Enstyro the second use of foam is often better than the first. We upcycle the foam rather than just recycle the foam. There are a lot of great reasons to join Enstyro and the innovation is just getting started. This is your opportunity to take over foam reuse in your region!