About EnStyro Styrofoam Recycling
Common Sense for a better future.
| | |
| --- | --- |
| Enstyro is about a future where we make better use of our resources. We are a small company leading the way on one resource in particular, Waste EPS. We value the extreme properties of EPS and have designed our EPS processing equipment around those beneficial properties. It's time we start living like we may not go extinct in the next few hundred years. | Click Here (PDF) to read the article |
Enstyro Team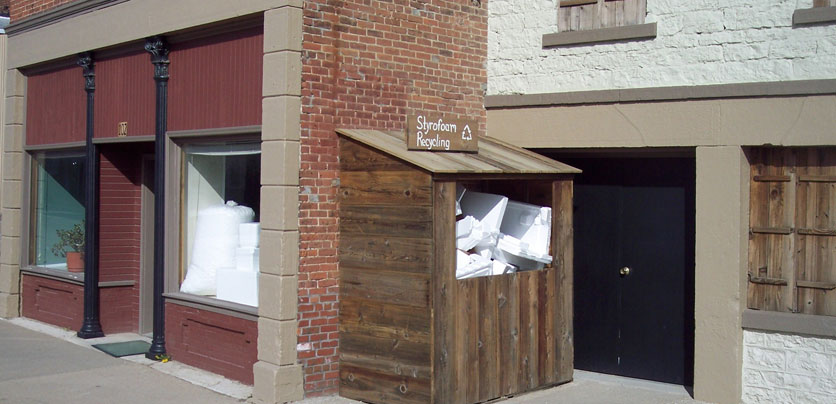 Enstyro Inc. was founded by Dave Rhomberg in 2010. Dave was a Chemist and Process Development Scientist before leaving the career track to attack the open niche of EPS recycling. Dave engaged a team of Engineers to help design the equipment and a quality fabricator to produce the equipment. Enstyro is thankful to Precision Metal Works of Maquoketa, IA for their quality work and patience through our many improvements.
Dave's wife Jen has been a huge support for Enstyro. Though she wants little to do with EPS, Jen transitioned from stay at home mom to a career woman during the development stage of Enstyro. Her hard work allowed Enstyro to push forward even as funds got low. We wouldn't be here without her. Dave, Jen, and their four daughters want to grow this sustainable method for simple reasons: Less Mining for aggregates, less landfills, better insulation in our homes and structures, and a better world for future generations.
Dave's prior experience in particles led the mission to produce quality reproducible and profitable particles from EPS foam. Dave found EPS to be a vastly underutilized byproduct. Now with access to these particles, we need more forward thinking people to try projects with Enstyro shred.
Enstyro equipment is serving our customers in the US and several other countries. We're not on all continents yet, but we're getting there. The range of products that our customers produce from the shredded foam continues to surprise us. From green roofing to insulating stucco, there is much room for improvement in our building methods.
EnStyro has a research and development laboratory. We know that there are challenges producing products from EPS. It took persistent commitment and many failures, but experience has taught us that a proper shredding method and a controlled particle size range makes EPS easy to work with and repeatable. Join us now, it's time to move forward by doing the simple things right.